Purpose Capital is the proud recipient of the 2023 Best Impact Investment Fund award – our second year in a row winning this award.
The Mindful Money Awards celebrate the role that ethical and impact investing are playing in making money a force for good. They reflect the growing movement to re-orient investment finance towards sustainability and well-being, providing solutions to the mounting crises of climate change, biodiversity loss and inequality. The Awards honour the funds and the individuals who are leading the movement to make responsible investing the new normal, and impact investing the progressive frontier. Across the different awards, there are 28 experienced judges – independent to Mindful Money.
Entries to the Best Impact Fund category must: "demonstrate a strong purpose and a clear vision for how their enterprise will create significant impact overall, using examples of specific investments that benefit people or the environment, including aims such as social equity, nature restoration and greenhouse gas emissions reductions. They will have a clear methodology on how they assess their impact, including the additional impact that is attributable to their investment and/or the impact of the company receiving investment."
Purpose Capital was pleased to receive the following feedback along with the award:
"The judges were impressed by the clear focus for the Purpose Capital Impact fund, and the sound framework for impact measurement. This includes the important step in including validation from local communities and intended beneficiaries. They welcome the contributions to the success of ventures through advice and support that extends beyond financial investment."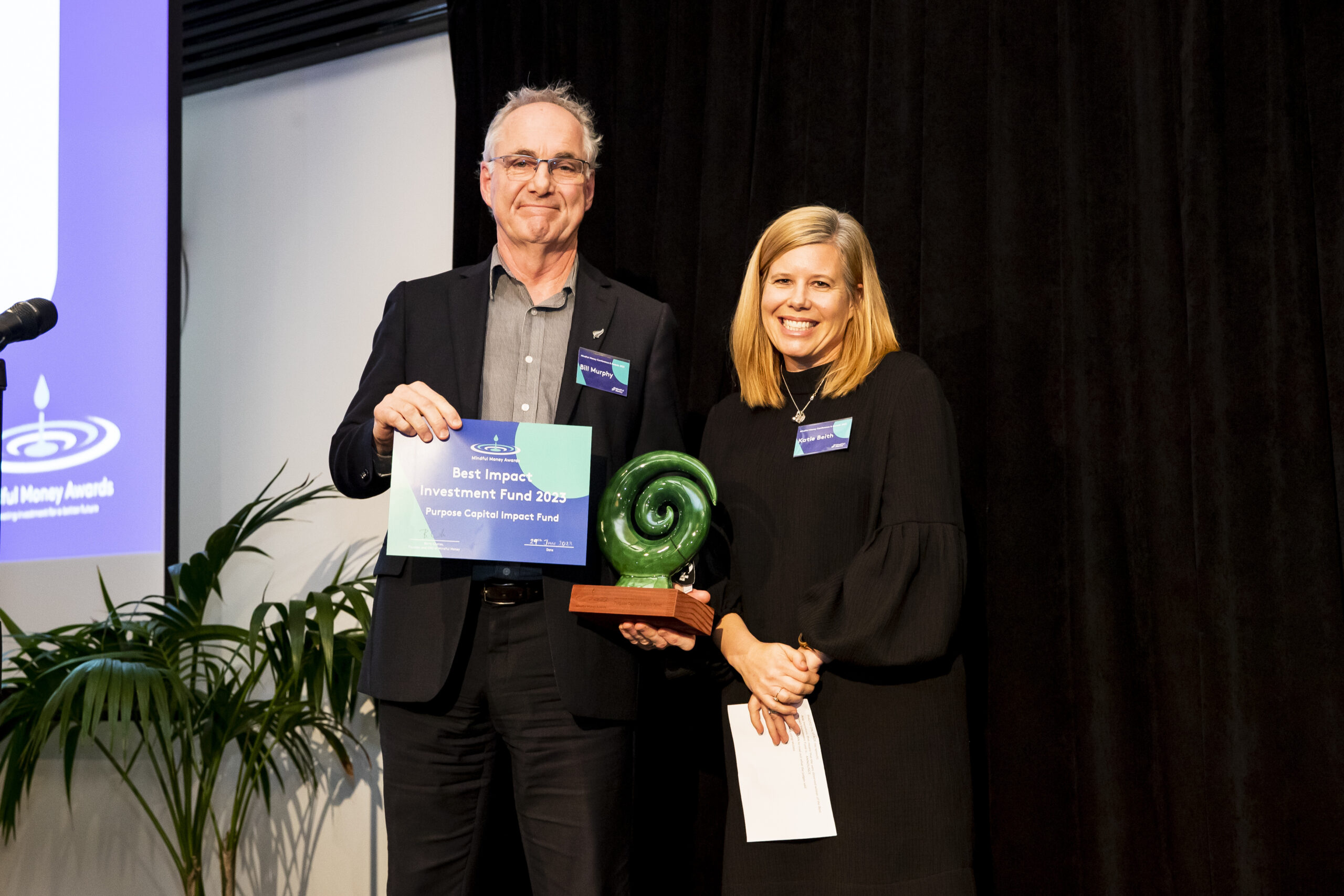 Photo: Bill Murphy receiving the award from Katie Beith, Head of ESG, Forsyth Barr
The award comes as Purpose Capital releases it FY23 Impact Report and looks to raise a second fund.
Following the award, Barry Coates from Mindful Money interviewed Bill Murphy, along with Rohan MacMahon from Climate Venture Capital Fund. You can watch the recording below:
Purpose Capital are Impact Investors who drive positive environmental and social change in the Waikato, Bay of Plenty and greater New Zealand. New Zealand's largest private impact investment fund, Purpose Capital is founded on the principle that we can effect change through well-run commercial investments that deliver impact as well as financial return.
Through demonstrating the effectiveness of our approach, Purpose Capital aims to increase impact investments from asset and fund managers as well as private and philanthropic wealth. By leading investment opportunities, we provide confidence to other investors to invest alongside us in impactful companies and projects.
Fast Facts:
Number of investments considered to date: 300+
Investment pipeline: $500M+
Fund size: $21.7M
Invested to date: $8.2M
Co-investment under management: $14.8M