| | |
| --- | --- |
| DATE OF INVESTMENT | 30 March 2022 |
| LOCATION | Tauranga |
| SECTOR | Housing |
| STAGE/TYPE OF INVESTMENT | Land Development |
| IMPACT FOCUS | Affordable Housing |
| STATUS |  Active |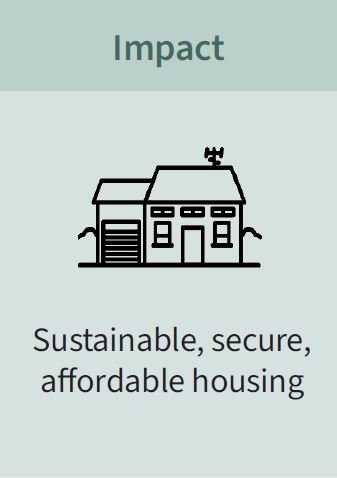 Profile
Bureta Park Build-to-Rent ("BTR") is an 89-townhouse development in the Tauranga suburb of Otūmoetai. The homes are targeted to be Homestar 8 rated, a first for a development of this scale in Tauranga. Centrally located the project will demonstrate how to build much needed housing without contributing to urban sprawl and its negative social and environmental consequences.
The property is adjacent to Countdown Bureta Park and will be comprised of 70 x 2 bed townhouses and 19 x 3 bed townhouses. The development has three distinct stages: land development, construction, and rental period.
Upon completion, a portion of the homes will be allocated to affordable housing and/or Community Housing Providers. To provide security of tenure, leases will be a minimum of 3 years, with up to 7 years available. Our development partner will sell 45 homes to the market to increase supply for first homebuyers.
Impact
One of Purpose Capital Impact Fund's focus areas is affordable housing. This development increases affordable housing stock in Tauranga for both renters and first homebuyers alike.
Purpose Capital has raised a syndicate of impact investors who share the same outcome desires for the community, residents and environment. 
Tauranga's prevalent housing strategy of developing houses at the fringe areas is contributing to urban sprawl, congestion, car-centric communities, pressure on infrastructure, and fragmenting of social connections. This investment provides a first step for Purpose Capital in leading systemic change in the housing space by providing long-term capital and prioritising social and environmental outcomes.
New Ground Capital, our construction and property management partner, shares our impact desires and is dedicated to improving experiences of renters in NZ through professional rental management. Residents are offered lease terms of between 3 and 7 years to provide security. Providing all obligations are met, New Ground Capital will never ask a resident to vacate before the end of term.
Homestar ratings indicate an easier to keep warm, healthier, cost-effective, and environmentally friendly home. This development is targeting a Homestar rating of 8. As power bills generally contribute to the second largest household outgoing (behind rent/mortgage), reducing this bill has a positive effect on household budgets and, therefore, reduces the likelihood of financial hardship.
Transaction Summary
In March 2022, the Fund acquired an equity stake in New Ground Living (Bureta Park) Limited as part of an impact investment syndicate which holds 100.00%. This investment acquires the underlying land and finances the land development phase. The Fund's impact investment partners are Bay Trust, Fund LP's and other regional impact investors.
We expect to be raising another $14.0m in capital in Q4 of 2023 to finance the construction phase and we welcome expressions of interest from interested potential investors.